You know the girls I am talking about, we knew them in high school, see them on the sidewalks and now in the blogosphere.  They look perfectly put together, not a hair out of place, red lipstick still in tact and not a crease in their clothes.  They almost look unreal, like porcelain figurines and I mean that in the most complimentary way.  I've never been the type to look perfect, even on my wedding day my hair was uncurling over my ear. 😉 Click pictures to access these Picture Perfect Girls.  And don't mind the spacing, could not get it just right.
Piksi of Finland: Look at those lovely pin curls!  This is her being featured on HelLooks. She has the most unique pieces in her wardrobe.
VitaminInMotion of Sweden: Like my comment on this pic said "Sigh, love the expression and slumped shoulders".

Casey from Viginia: Think delicate vintage blouses, 50s halter dresses and a killer smile.
No Signposts of Finland:  Her style centres around a full wardrobe of pale prettiness, as well as the best tights and kneesocks.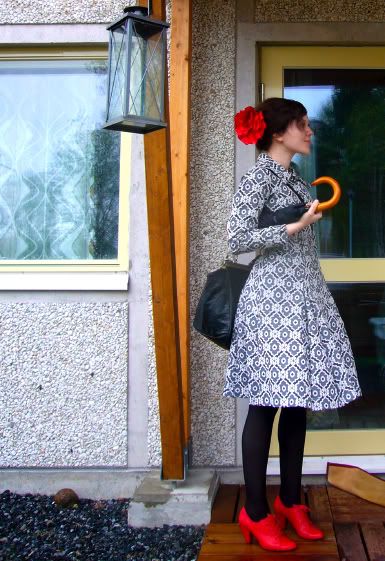 Ranna also Finland:  It's like Ranna was transplanted here straight from the stylish times of mid last century.
Apirl of Vancouver (my city!):Her furniture alone is covet worthy and I love how much her style can changes each day from vintage vixen, adorable geek and today gothic!